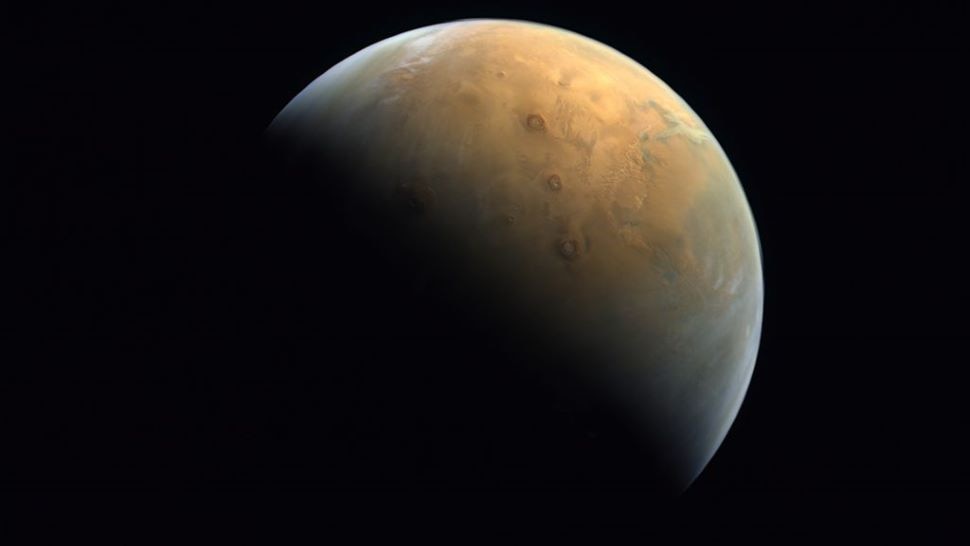 नई दिल्ली: संयुक्त अरब अमीरात (UAE) के होप मार्स स्पेस (HOPE) ने मंगल ग्रह (Mars) के ऑर्बिट में प्रवेश किया है. होप ने हाल ही में अपनी पहली मंगल ग्रह की तस्वीर भी भेजी है. इस मिशन के शुरू होने के बाद यूएई के इतिहास में यह तस्वीर अपनी तरह की पहली तस्वीर बन गई है. यानी यह तस्वीर अरब अंतरिक्ष जांच की ली गई मंगल ग्रह की पहली तस्वीर है.
प्रधानमंत्री ने शेयर की तस्वीर
मंगल के इस फोटो को यूएई के प्रधानमंत्री (Prime Minister Of UAE) और दुबई (Dubai) के शासक शेख मोहम्मद बिन राशिद अल-मकतूम (Mohammed bin Rashid Al Maktoum) ने अपने ट्विटर अकाउंट पर शेयर किया है. इस तस्वीर में सूर्य, मंगल ग्रह की सतह से लगभग 25,000 किमी की दूरी पर दिखाई दे रहा है.
من ارتفاع ٢٥ ألف كم عن سطح الكوكب الأحمر .. أول صورة للمريخ بأول مسبار عربي في التاريخ

The first picture of Mars captured by the first-ever Arab probe in history, 25,000 km above the Red Planet's surface pic.twitter.com/Qgh2Cn3JPF

— HH Sheikh Mohammed (@HHShkMohd) February 14, 2021
एक तरफ सूर्य के प्रकाश में है तो दूसरी तरफ अंधेरे में है मंगल
तस्वीर में आप देख सकते हैं कि मंगल ग्रह (Mars) एक तरफ सूर्य के प्रकाश में है तो दूसरी तरफ मंगल ग्रह अंधेरे में छिपा हुआ है जो बड़ा ही रोचक नजारा है. वहीं, मंगल ग्रह के जिस हिस्से में रोशनी नजर आ रही है उस तरफ हमारे सौर मंडल के सबसे बड़े ज्वालामुखी, ओलंपस मॉन्स को देखा जा सकता है. इसके अलावा, तीन अन्य ज्वालामुखी जिनमें एस्कैरियस मॉन्स, पावोनिस मॉन्स, और अरसिया मॉन्स भी देखे जा सकते हैं.
ये भी पढ़ें- Alien Crystal Ball: करोड़ों में बिक रहे हैं 'एलियन पत्थर', रईसों की जेब पड़ी ढीली, जानिए क्यों है इतना महंगा
VIDEO
मंगल पर भेजे गए तीन स्पेसक्राफ्ट
हाल ही में मगंल ग्रह पर तीन स्पेसक्राफ्ट भेजे गए थे. उनमें से यूएई का होप मार्स स्पेस इस महीने की शुरुआत में मंगल ग्रह तक पहुंचने वाला पहला स्पेसक्राफ्ट बन गया. अब होप मंगल ग्रह की कक्षा (Orbit) और ग्रह के मौसम के पैटर्न का अध्ययन करेगा. यह हमारे पड़ोसी लाल ग्रह और इसके मौसम की स्थिति की बेहतर जानकारी के बारे में पता लगाएगा. आपको बता दें कि मंगल ग्रह पर जीवन संभाविता को लेकर लगातार प्रमाण जुटाए जा रहे हैं. 
विज्ञान से जुड़ी आने खबरें पढ़ने के लिए यहां क्लिक करें 
LIVE TV